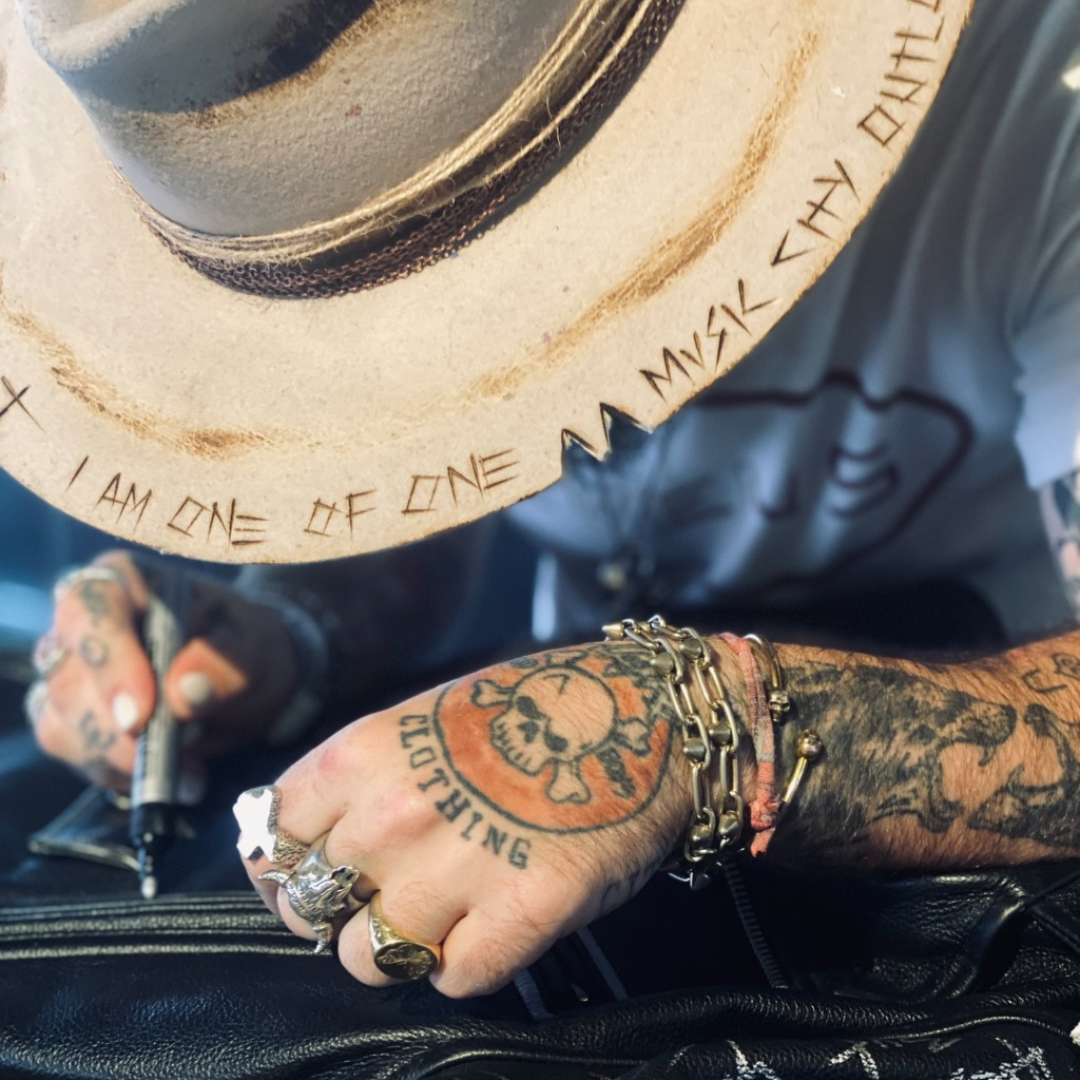 THE STORY
Travis Austin Customs is much more than a clothing company, I like to think of it as a branding agency with an emphasis on style. I started this company with one product in mind, the custom leather jacket. As we have grown and extended our network, we have expanded our products to custom Travis Austin Hats, curated vintage tops focused on rare band tees, custom denim jackets and of course, our custom leathers, which will always be our main focus. 
What I take the most pride in, is being able to use my art to enrich my client's brand/image. I have so much respect for other artists' work, the fact that I get to use it as inspiration for my own and pay homage to their craft is so special to me. 
The artists I work with usually already have brand images. I get to bring a new light, capture impressions and strengthen the image as much as possible, it's a dream job really. Our additional products, the vintage, denim, and custom hats have been amazing for our brand. They allow us to connect with many more people and provide collectible pieces to anyone who shops with us. Everything we create from reclaimed, vintage items, the fact that we get to breathe new life into all of those stories and introduce them to the current generation gets me so excited...and I'm very proud of that. 
When it comes to what sets us apart from others; besides the obvious, which is the time and heart we put into every piece and the fact that everything you buy from us is one-of-one - no one will ever have the same piece…it is our sense of community. The heartbeat of this company is about extending a legacy so that for years to come, people are walking around this world with a Travis Austin on their back and that to me is the most beautiful legacy I can provide. Not only disruption to industries that need to be changed, but providing a legacy for all those other people and providing the stories and and the color to their lives.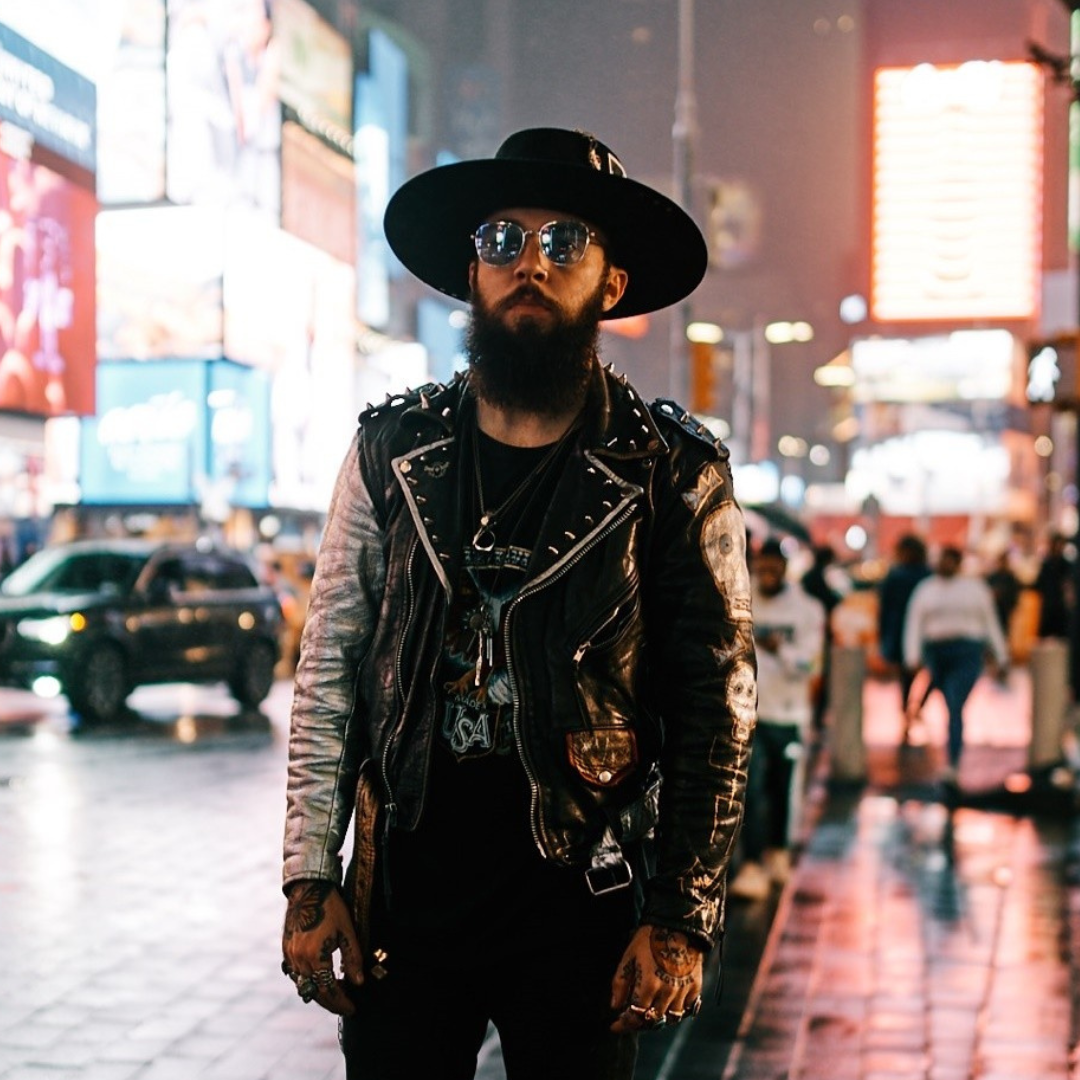 ABOUT TRAVIS
In 2014, I bought myself a sketchbook and a box of Crayola-colored pencils. I didn't know how to draw, how to sew, or anything about "fashion." I've always had my own unique style and was very proud of it, and I had a lot of vision that I just knew could eventually be something. Through trial and error and sticking to my beliefs of community and relationships first, business second... grew more confident in this industry week by week. 
In both personal and professional life, I value my relationships immensely and put as much good "out there" as I can. One of these relationships really changed the trajectory for me and made a lot of things possible. In 2016, I was able to build a relationship with Omnia Nightclub in San Diego which led to opportunities to design for their artists such as Seven Lions, Borgeous. Jauz, and Tiesto. Through these opportunities, I started to discover that creating custom pieces for musicians and other artists while presenting them as branding tools was my purpose in the industry. Before leaving San Diego, I had the unbelievable opportunity to create for Stillhouse and G-Eazy which provided an amazing platform and really launched what is now, Travis Austin Customs. With years  worth of relationships built in Southern California and New York, I made the move to Dallas, TX. I was able to find the perfect location for our first flagship showroom and art gallery in Oak Cliff, now known as Bishop Arts District. Two months later, we opened our flagship showroom in Dallas, and worked with record labels, film studios, music festivals and artists all over the world. Fast forward a few years, Travis Austin Customs has since found its new flagship home in the heart of Downtown Nashville, TN on Fifth and Broadway. The same concept and ideas are beaming from Nashville's neon lights for me and my team!